Butcher's Best Meat Share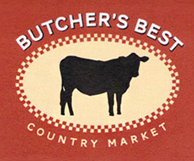 We are thrilled to be partnering with Butcher's Best once again this year to offer what we think is a great addition to our traditional CSA. Butcher's Best offers an incredible product that is far superior to the grocery stores.
Meat shares run a total of 12 weeks and will start the first day of pick up. Below is a list of the meat you will get in your share if you choose the meat add on.
Week 1: Whole Chicken 4lb average
Week 2: Chopped Meat 3lb average
Week 3: Salmon Filet 3lb average
Week 4: Boneless Chicken Breast 3lb average
Week 5: Baby Back Ribs
Week 6: Sirloin Tip Steak 3lb average
Week 7: 16/20 Raw Shrimp 1.5lb average
Week 8: Boneless Pork Chops 3lb average
Week 9: Sirloin Patties 3 packs of 4 patties
Week 10: Boneless Chicken Thighs 2lb average
Week 11: Sausage Patties 3lb average
Week 12: Beef Stir Fry 2lb average

With the exception of the ribs, all meat will be split into two to three convenient packages. All meat comes frozen.
Cost of the meat share is $385.00.  
---
***Important*** Please include your email address when you send in your check.